Green Tea Lovers Shincha Kagoshima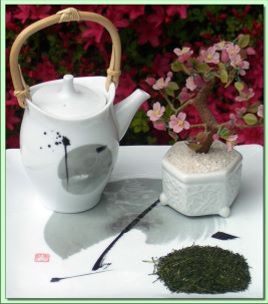 This is a first crop, young bud sencha that was grown in Kagoshima Perfecture, Japan. According to Green Tea Lovers shincha has a higher content of amino acids (L-Theanine) and vitamin C. The dry leaves were small and very dark green in color. They had aroma that almost reminded me of mint. I steeped this tea in a kyusu using 160 degree water and three subsequent 40 second infusions. The liquor was a bright yellow green with a somewhat cloudy appearance.
This tea was mellow and refreshing but surprisingly full flavored. The predominant flavor was sweet and floral but there was also an element of nuttiness in the background, similar to genmaicha. The third infusion was just as potent as the first. It felt as though it could have withstood a few more infusions if I wasn't in danger of floating away after drinking three kyusu. I would definitely recommend this tea.