Global Tea Hut: September 2015 – Morning Dew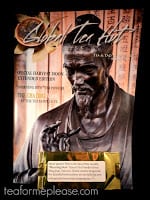 I don't think I've ever been more excited to receive an envelope from +Global Tea Hut than I was for September's shipment. The gift for this month was a translation of Lu Yu's The Classic of Tea, also known as the Cha Ching. I was lucky enough to find a copy of the Francis Ross Carpenter translation a few years ago but it has been out of print for some time. I'll be working through this one slowly. The drawings in particular do a great job of illustrating the tools that were used during that time period. For those of you that missed this issue, I'll be sure to add the link here once it is available online. That's the wonderful thing about Global Tea Hut. They share everything they do with the world.
The tea, Morning Dew, was also exciting but scary at the same time. It was a powdered green tea that was designed to help us replicate (in a way) Tang Dynasty style brewing. I must confess to waiting some time before giving it a try because I was nervous. Boiling green tea powder did not sound like a very appetizing thing to drink. After I finally bit the bullet, it wasn't that bad after all. It looked a bit like muddy matcha but the taste was surprisingly mild. It was smooth, sweet and vegetal with a powerful chi. It's been a long time since I got that feeling from anything that wasn't puerh. Funnily enough, I tried preparing it exactly as I would matcha but that backfired terribly. You can't win them all!
You can find out more about Global Tea Hut here.