Global Tea Hut: October 2015 – Cloud-Hidden
Life has been a bit on the hectic and crazy side so I'm a bit behind in sharing my Global Tea Hut experiences with you all (among other things). This used to stress me out quite a bit in the past but I've decided to stop beating myself up over it. Scaling back my publication schedule has helped. Ultimately what matters is that I take the time to enjoy the tea when I can.
The lifeblood of +Global Tea Hut is its members and October's shipment paid special tribute to that. The theme of Tea & Tao Magazine was "voices from the hut". The gift that was included in this months envelope was photographs from their recent tea photo contest. I don't know how they narrowed it down to just a few because all of the entries that I've seen were truly beautiful. The articles have made for very interesting reading. I really enjoy learning about the different people who have connected through Global Tea Hut. It makes me wish that there were similar gatherings in my little corner of the world.
Shou puerh isn't always my thing but Global Tea Hut has never let me down. I was particularly intrigued by cloud-hidden because it is from Laos. "Border tea" is a hot button issue but at the end of the day, man made boundaries don't matter much to the tea trees that grow there. This tea is a "living tea" that was donated by the farmer himself. I brewed it in my handy little side handled teapot. At the moment it is probably my most used piece of teaware. I picked it up from Yunnan Sourcing on an impulse but the $16 price tag can't be beat for how useful it is.
Cloud-hidden was exactly what the doctor ordered on a cold night after a very long day at work. The dry leaves were quite beautiful to look at. They were dark and twisty with a healthy smattering of golden tips. Although the fermentation taste of a shu puerh was there, it never crossed the line into fishy or unpleasant. The dominant flavor note that kept jumping out at me was a deep, dark cocoa. It was also accompanied by hints of dark fruit and a lingering sweetness. There was a very expansive warming feeling as I drank infusion after infusion.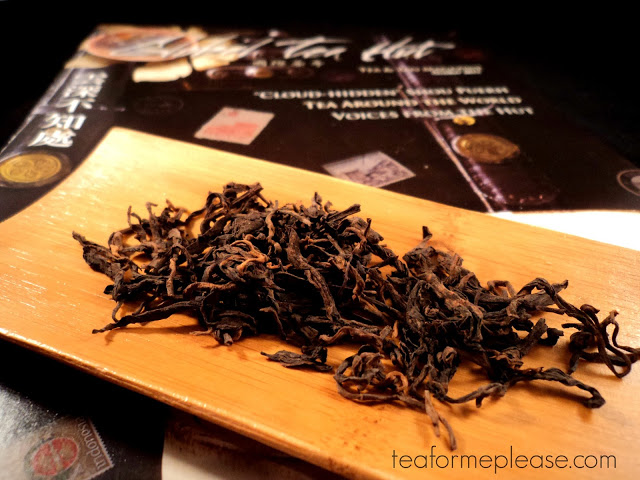 {
"@context" : "http://schema.org",
"@type" : "Review",
"name" : "title",
"author" : {
"@type" : "Person",
"name" : "Nicole Martin"
},
"datePublished" : "date",
"image" : "image url",
"itemReviewed" : "item",
"reviewBody" : "text",
"url" : "http://www.teaformeplease.com" : {
"@type" : "Organization",
"name" : "Tea for Me Please"
}
}