Four Seasons Tea Co. Lan Hua Xiang Oolong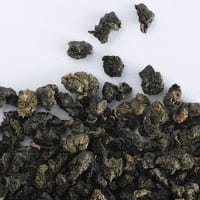 Country of Origin: China
Leaf Appearance: dark green, tightly rolled
Ingredients: oolong tea
Steep time: 10 seconds
Water Temperature: 212 degrees
Preparation Method: porcelain gaiwan
Liquor: deep gold
I hate to break it to you, tea friends, but I have another really awesome Four Seasons Tea Co. tea to tell you about. I will not be held responsible for any damage that might now be done to your wallet or yearly tea budget. At $1 per gram, this tea is not an inexpensive one. I do have to say that it is definitely worth it for a special treat. Proceed at your own risk. 😜
Those of you familiar with Phoenix mountain oolongs might know that the Chinese word Xiang roughly translates as fragrance. Lan Hua, or 兰花, means orchid. Add the two together and we know right off the bat that this tea is "orchid scented". It can be a bit hard to explain how a tea can taste like another plant. The closest I can come is to say that it sort of tastes the way that orchids smell. Does that make sense?
The holiday season had me super busy with work, leaving little time for gongfu'ing. I knew exactly what tea I was going to have when I finally had a moment to relax and this one is it. In my Instagram caption, I called it liquid gold. That was not only because of the lovely color of the liquor but also because it was one of those rare teas that really captured my attention.
The taste was incredibly creamy and floral with sweet notes of honey. Each sip was wonderfully aromatic and complex. Later infusions brought an interesting fruity quality that reminded me of honeydew melon. Overall it was very smooth without any astringency. There was also a really nice hui gan, or lingering sweetness, that I was still experiencing long after my last sip.
I went a little heavy on leaf volume while preparing this tea. Sometimes that can backfire but in this case, it only made the mouthfeel that much more viscous. The infusion times that they provide might seem a bit short but I highly recommend following them. These leaves really took their time opening up. I was able to get ten consecutive infusions using this method.
Lan Hua Xiang Oolong sample provided by Four Seasons Tea Co.