I've always dreamed of making a table out of an antique tea crate. I finally found one, and it is now one of my favorite pieces of furniture in my home. I recorded a video about it last year but realized that I never wrote about it here on the blog. Here are all of the details about how I made it and how much the materials cost.
How I Made It
Antique tea crates are pretty hard to come by. It took many years of searching through eBay to find one. The antique tea crate I purchased is from Lipton and was used to transport Sri Lanka tea. It is stamped with King Edward VII's royal seal, which means it can be dated to approximately 1936. This was a bit of a weird time for the company because it was a few years after Sir Thomas Lipton's death but also before Unilever acquired them.
I actually think that I lucked out on price because the seller listed it as King Henry VII. Most of the crates I've seen being sold were much more expensive. Thankfully the seller was also located only one state over from me, so the shipping wasn't too crazy for such a large package. It arrived in an absolute HUGE box that was well padded. I was barely able to fit into the narrow entryway of my apartment.
For the tabletop, my husband was able to have a piece of glass cut exactly to the size that we wanted by a local glass company. Jason wanted smokey glass, but I wanted clear. After seeing the table assembled, I definitely think that was the right call. They cut it with rounded corners to make it a bit safer. I am super accident-prone, so sharp edges at knee height are not a good idea.
I did not want to risk potentially damaging the crate by drilling into it, so it took some time to figure out how to secure the top. I wound up just stacking up felt furniture protection pads on the corners and topping each one with a comparably sized non-slip pad. The weight of the glass top, along with the non-slip pads, made it very secure. It takes quite a bit of effort to separate them. I also placed furniture sliders underneath each of the corners so that the table is easy to move on our tile floors.
My long dreamed of table was complete, but I still felt like something was missing. The inside of the crate was empty, and it did not come with a lid. I thought about storing books inside but that made it too heavy and I was worried about damaging the antique wood. I found an artificial fern at Target to put inside, and it was the perfect finishing touch.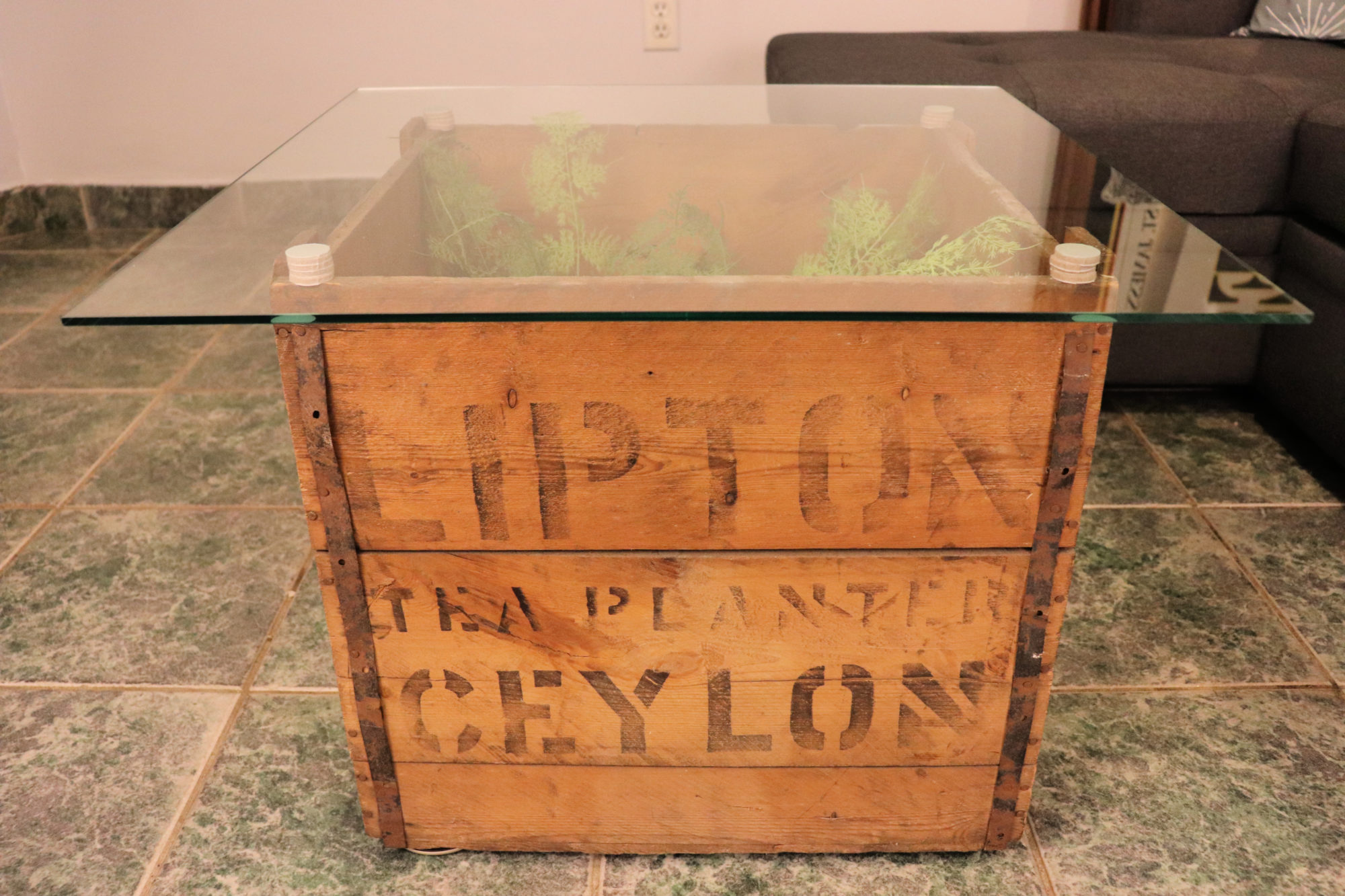 What It Cost
Tea Crate – $85.25 ($29.95 for shipping and $5.30 sales tax)
Custom cut glass top – $60.00
Artificial Fern from Target – $30.00
Furniture pads and sliders – $15.00
If you'd like to take a closer look, here is the video that I recorded last year.
Overall I am really pleased with how my antique tea crate coffee table turned out. It's a unique piece of history that subtly shows my love of tea. Guests are always fascinated when I tell them how old it is. My husband, Jason, now wants to make a larger one in a similar style out of a whiskey barrel. That will have to wait until we have a bigger place.
What do you think of my table? Do you have any tea-related furniture? Let me about it in the comments below!