November 1st, 2nd, and 3rd I attended the first-ever Chicago International Tea Festival. Believe it or not, this the first dedicated tea festival that I have attended outside of the World Tea Expo. This is a brand new event so I wasn't sure what to expect. The good news is that it was a fantastic experience.
I must confess that I did not take nearly as many pictures as I thought. I get caught up in the moment, especially when I am catching up with tea friends. This leads to me carrying my camera around all day but using it very little. Hopefully, you'll still get the idea. 🙂
Vendors
The tea festival occupied two floors of the Holiday Inn Mart Plaza. I enjoyed being able to stay at the venue because it simplified everything. A few vendors spilled out into the hallways but most of them were located in one large central room. There was plenty of space between the booths. In comparison to other events, it never felt overly crowded, even during the busiest times.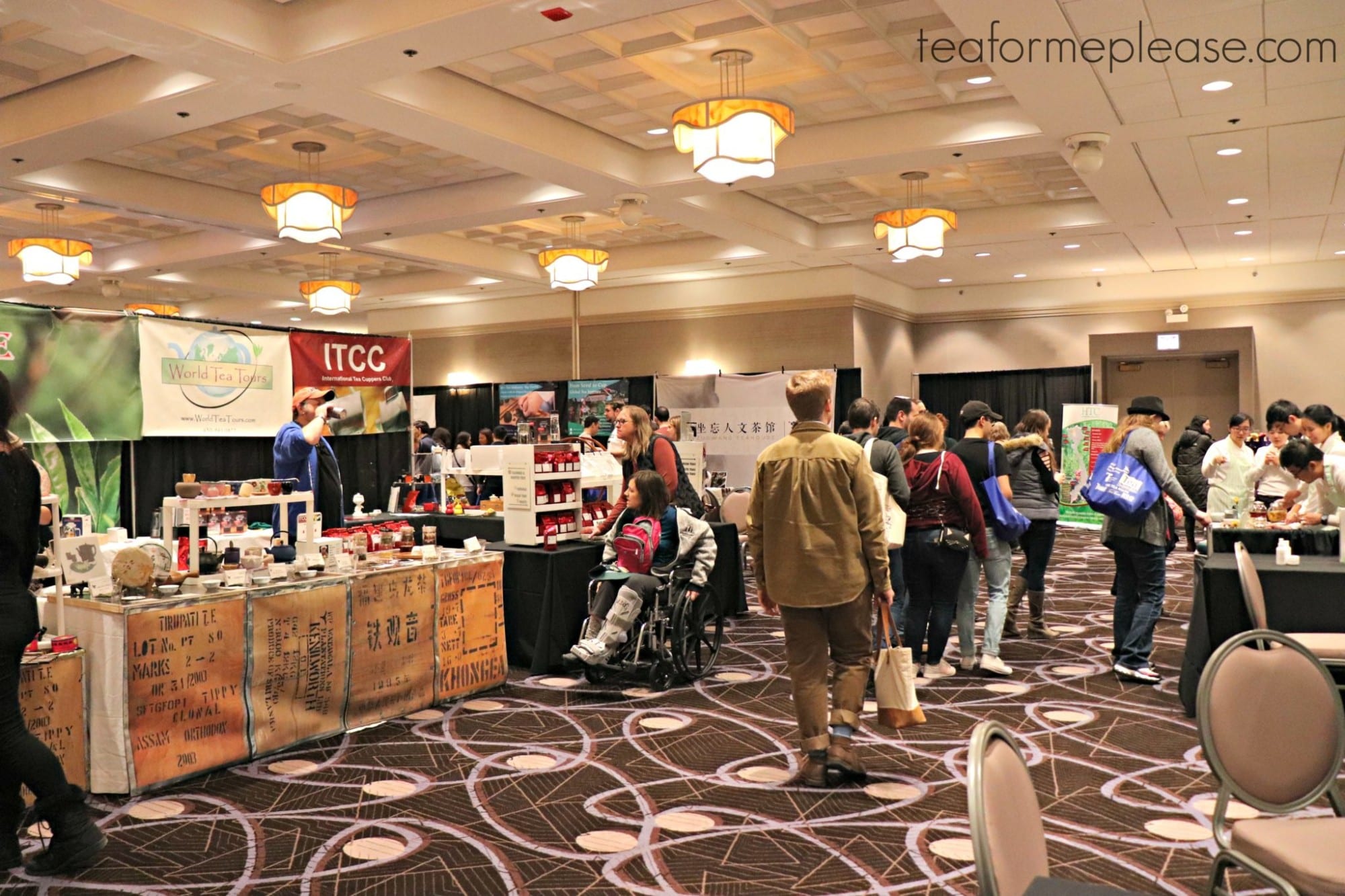 I was surprised to see that most of the companies leaned towards specialty teas without flavoring or additives. The ITCC sponsored a People's Choice Tea Competition and the winners were all straight teas (except for the flavored category). How awesome is that? Nepalese and Japanese teas seemed to have the most representation.

Tealula had a giant teacup at their booth. As if that wasn't cool enough, it was actually a costume that you could wear. I couldn't resist trying it on after some encouragement from Rachel from iHeartTeas and Daniella from Tea Cachai.
Classes and Workshops
This tea festival had an emphasis on workshops and classes, making it feel a bit like a miniature World Tea Expo. The lineup included industry big wigs that you won't always see at a small regional event. I had a hard time deciding which ones to take. Scheduling conflicts meant missing out on some but I did enjoy everything that I attended.
Champagne of Teas
After grabbing a quick lunch with friends, I kicked off the festival with a bang by attending a screening of Champagne of Teas. Kevin did a Q&A session with the audience afterward. It was great to see people so curious about Darjeeling tea. They deserve just as much of the spotlight that other teas get.

Wine & Tea: A Comparative History
Next on the agenda was a talk on the commonalities between wine and tea with the incomparable James Norwood Pratt. I could listen to him read the phone book but this topic holds particular interest for me. I work at a wine retailer for my day job so it is a perfect meeting of my two worlds. The talk was entertaining and filled with interesting tidbits about both beverages. I could have sworn that I had written a blog post about this but it seems that I did not. There will be one coming down the pipeline!

The New Transparency
Logan Hayes of Hugo Tea presented on a topic that is close to my own heart. Transparency is vital for the tea industry to move forward yet it is a complicated topic. The image presented to the public does not always match up with the reality on the ground. As part of the presentation, he showed the typical posed pictures of happy tea pickers in a field alongside. We were then shown pictures that better represent reality, such as the rubbish heap just out of sight. It is important to have these difficult conversations, especially at a consumer-focused event.

Speaking
Tea Bloggers Roundtable
This is the first Tea Bloggers Roundtable that I have been a part of outside of World Tea Expo. The panel consisted of (left to right) Rachel from iHeart Teas, Marco from Steap'd, yours truly, Danielle from Tea & Me, and Geoff from Steep Stories. We had a great turn out and an awesomely engaged audience. It was interesting to see the difference in the kinds of questions that were asked. The crowd at World Tea Expo usually focuses on business whereas the questions in Chicago were much more blogging centric.

Dancong Oolongs: The Doppelgangers for the Tea World
The main reason for making the trip to Chicasgo was that I was invited to speak. Believe it or not, this is the first workshop that I've ever taught! It was a bit outside of my comfort zone but in a good way. I decided to do a tasting that focused on one of my favorite types of tea, dancong oolongs.
The teas I shared:
Mi Lan Xiang
Ya Shi Xiang
Huang Zhi Xiang
Jiang Mu Xiang
Fan Shu Xiang
Thunderstruck Oolong
Note to self: bring more gaiwans next time. Your fingertips will thank you!

What do millennials and the next generation want as a tea experience?
I was also invited to be part of a panel discussion on what millennials are looking for when it comes to tea. The speakers who joined me were Kevin Christianson (Café Barnabas), Bianca Shah (ITI), Ben Richardson (Elmwood Inn Fine Teas), and Rachel Carter (iHeartTeas). We covered everything from transparency to health benefits and tea-infused cocktails. I've been on panels before but this was my first time being live-streamed. How cool is that?

Exploring the City
The venue was centrally located, making it easy to explore. Rachel from iHeartTeas was a great tour guide! We took an obligatory trip to see "The Bean" and I couldn't skip digging into some deep dish pizza. As a pseudo-New Yorker, I liked the feel of a big city that was a bit more spread out. The tea blogger crew are also foodies so we had everything from tacos to tapas.
My favorite stop was Easthill Tea Co. It is a beautiful space and I loved all of their tea pets. I wanted to buy them all! Their staff are a well trained and knowledgeable crew of tea lovers. We took over the tea bar with a large group and I was impressed with how well they handled it. The silver needle I ordered was fantastic and a lovely little celadon teapot followed me home.


I had a great time at this event and I will be planning to go again. Did you get to attend the Chicago International Tea Festival? Will you try to make it next year? Let me know your thoughts in the comment below!