Arbor Teas Rembeng Estate Assam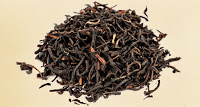 According to Arbor Teas, this tea was grown at the Rembeng estate in India's state of Assam in northeastern India, near the banks of the Brahmaputra River. The leaves of this tea were small and twisted, mostly dark in color with the occasional golden tip mixed in. I made this tea in my Breville One-Touch Tea Maker with 212 degree water for three minutes. The liquor was a coppery red.
This tea had the classic Assam taste but I would say that it was a milder, more toned down version. It was rich and malty as expected but smoother than a lot of Assams that I have tried in the past. There was a bit of dryness at the end of each sip. Ever conscious of my pesticide intake and the way my purchases affect others, I love that this tea is organic and fair trade certified. I would definitely recommend this tea.