Arbor Teas Organic Masala Chai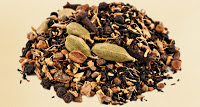 Arbor Teas lists the ingredients of this blend as including organic black tea, organic green cardamom, organic cinnamon, organic ginger, organic clove, and organic black pepper. The dry leaves were very small in size, especially compared to the cardamom pods and cloves. It had a sweet and spicy aroma that was very pleasant. I made this tea in my Breville One-Touch Tea Maker with 212 degree water for four minutes. The liquor was deep brown in color.
I'm always a little apprehensive to drink chai teas straight without milk or sweeteners, but this one was actually quite good. It still had the requisite amount of kick without being overbearing or throat searingly spicy. There was very little astringency. That is unusual because I find a lot of chais use lower quality tea that has a harsh bitterness to it. Overall I was very impressed with this blend, as I have been with most of Arbor Teas' offerings. I would definitely recommend this tea.