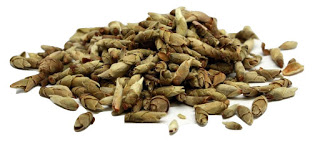 Country of Origin: China
Leaf Appearance: small, pine cone-like buds
Ingredients: puerh tea
Steep time: 30 seconds
Water Temperature: 212 degrees
Preparation Method: glass gaiwan
Liquor: very pale yellow
Ya Bao is a bit controversial in the tea world these days. There's a raging debate as to whether it is puerh or white tea. Some say it's not even tea at all. My vote is for white tea (due to the way the leaves are processed) but I've heard good evidence for each argument. In this case I'm listing it the way the vendor does, if only for the sake of consistancy. The leaves looked pretty similarly to other teas of this type that I've tried. They always seem to remind me of fuzzy little pine cones. At first sip it seemed like there was nothing there but then a sweet vanilla aftertaste took me by surprise. A few infusions in there was even a hint of spice in the background. The directions for this tea were more western style but I definitely think gongfu'ing it is the way to go. There's really no chance of overdoing it. Towards the end of the session my infusions were over a minute long. That might not seem like very long but it is when you're using a 100ml gaiwan. Ya Bao is one of those teas I don't find myself drinking often but when I do it always seems to hit the spot. This one is comparably priced with Verdant Tea and most of the other ones that I've found on the market. I'd recommend giving it a try if you're curious about Ya Bao.
Wild Pu'erh Buds sample provided for review by 3 Leaf Tea.